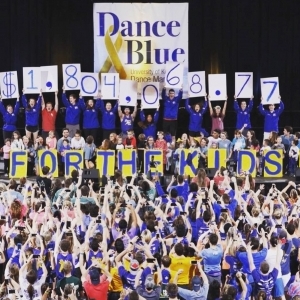 The MBA Student Association (MBASA) at the University of Kentucky's Gatton College of Business and Economics recently participated in the 2018 Dance Blue Marathon and organized a UK MBA Dance Blue team which raised over $6500. Their donation will be used to supports the kids of the DanceBlue Kentucky Children's Hospital Hematology/Oncology Clinic through an endowment and also helps to provide funds to support research at the UK Markey Cancer Center.
DanceBlue is a University of Kentucky student-run organization that raises funds year-round and culminates in a 24-hour no sitting, no sleeping dance marathon. All of the money raised through DanceBlue is The Golden Matrix Fund was created to benefit the DanceBlue KCH Hematology/Oncology Clinic patients and families. Childhood cancer not only affects the child physically, but it also creates many emotional and financial difficulties for the entire family. The goal of the Golden Matrix Fund is to provide care and support for the kids through giving them and their parent's comfort.
The UK MBA team had seven students get dancer spots on the floor during Dance Blue and participated in many different fundraising activities. One of the UK MBA students, Tori Yeaste, even raised enough money to be in the top 10 of all fundraisers across campus. A special thank you to the UK MBA team which included Rachel Dudney, Abby Berger, Ashley Kiser, Dean West, Tori Narin, Tori Yeaste, Clancy, Crisann McCoy along with committee members, Lucas Anderson and Caroline Washer.