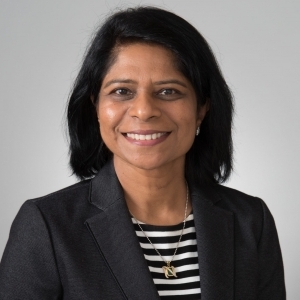 University of Kentucky MBA alumna, Arundathi Reddy, M.D., has been appointed Chief of Pediatric Anesthesia in the College of Medicine at the University of Arkansas for Medical Sciences (UAMS) and will begin serving at UAMS' Arkansas Children's Hospital in November of this year. Dr. Reddy is currently a professor and chief of the Division of Pediatric Anesthesia at the University of Kentucky's College of Medicine, along with serving as the medical director of outside operating anesthesia and is a pediatric anesthesiologist at Shriners Hospitals for Children Medical Center in Lexington, KY. 
"With extensive clinical leadership experience, business training and career-long dedication to providing the very best anesthesia services for children, Dr. Reddy will be an outstanding addition to our program as the College of Medicine and Arkansas Children's continue our work to build our Pediatric Anesthesiology Division," said Jill M. Mhyre, M.D., the Dola S. Thompson Professor and chair of the Department of Anesthesiology at UAMS.
Trained originally as an obstetrician gynecologist in India, Dr. Reddy completed her residency in anesthesiology at the University of Kentucky in 2003, serving as chief resident in her final year. After a fellowship in pediatric anesthesiology at Cincinnati Children's Hospital in Ohio, she returned to the UK Division of Pediatric Anesthesiology as a clinical instructor in 2003, where she excelled as a faculty member, and rose through the ranks to achieve promotion to full professor in 2017. She has served as chief of pediatric anesthesia and medical director of non-operating room anesthesia services since in 2011.
In addition, Dr. Reddy received her MBA from the Gatton College of Business and Economics at the University of Kentucky through the Professional MBA (For Leaders in Healthcare) program. Reflecting on her time in the UK MBA program, Dr. Reddy said, "I deeply appreciated all the education, knowledge, networking, negotiation and leadership skills that helped me grow further as a healthcare professional."
Dr. Reddy's clinical interests include pediatric regional anesthesia and pain management. She has been active in medical student and anesthesia resident education, garnering the UK College of Medicine's Women in Medicine and Science Mentorship Award, the Abraham Flexner Award for Educational Innovation and Curriculum Development and other honors.