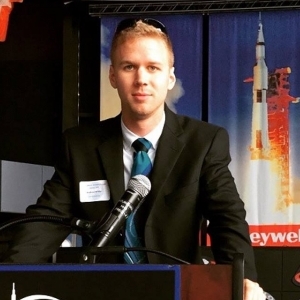 They say patience is a virtue and for UK MBA alum, Andrew "Drew" Wilder that is certainly an understatement. After graduating from the Engineering/MBA Dual Degree program at the University of Kentucky, Drew started doing what most students do at this point – applying and interviewing for jobs. Drew was very intentional about what he wanted to do professionally, which was combining his technical and business skills to achieve his ultimate dream job in the aerospace industry.
"Getting into the aerospace industry has been much harder than I initially thought it would be," says Drew. "I had many jobs that I felt I was a good fit for, was more than qualified to do, but in the end just didn't work out. I didn't want to give up on my dream, so I stuck with it for a while, maybe even longer than I should have. Eventually I was at the point where I just needed to nail something down, so I drew a line in the sand and gave myself a deadline."
Then the call came from Denver, Colorado literally hours before Drew's deadline, which was from a recruiter with United Launch Alliance. United Launch Alliance (ULA) provides spacecraft launch services and systems (Delta II, Delta IV and Atlas V) to the US government. The Atlas and Delta launch system families have been used for more than 50 years to carry a variety of payloads including weather, telecommunications and national security satellites, as well as deep space and interplanetary exploration missions in support of scientific research.
"He informed me that he was very impressed with my resume, and that he thought I'd be a great fit with the company," says Drew. "Over the next couple weeks, I had multiple phone interviews for many jobs at ULA, and I felt confident and prepared for all of them."
The next week, the recruiter called Drew and informed him they were impressed with his skills and qualifications. They made Drew an offer for a Mechanical Engineering position to join ULA, which was one of Drew's top company choices and at their headquarters in Denver, CO. Drew's position will include working with fluids and fuel systems and will likely include travel to launch sites.
Drew says, "The UK MBA program definitely helped me to get this job, and I'm really grateful to everything UK and the program did for me."
United Launch Services, LLC (ULS) is a subsidiary of United Launch Alliance, LLC. On behalf of ULA, ULS contracts for launch services using the Atlas and Delta launch vehicles. Their program management, engineering, test, and mission support functions are headquartered in Denver, Colorado with manufacturing, assembly and integration operations located in Decatur, Alabama, and Harlingen, Texas. ULA' launch operations are located at Cape Canaveral Air Force Station, Florida, and Vandenberg Air Force Base, California. ULA has more than 100 years of launch history with the Atlas and Delta rocket families to achieve more than 120 consecutive launches since 2006.