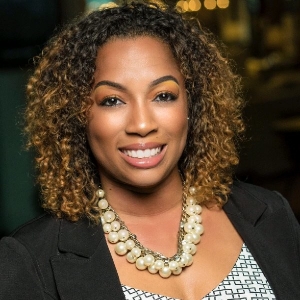 University of Kentucky MBA alumna, Victoria Russell, was recently named the Chief of Diversity, Equity and Inclusion (DE&I) at Papa John's International. In this role, Victoria is responsible for leading the company's efforts to ensure that the commitment to diversity and inclusion remains a top strategic priority across all aspects of Papa John's business operations which includes more than 5,000 stores in over 45 countries.
"I am excited to be a part of the very beginning of something extremely important to the lives and careers of our 120,000 team members," says Victoria. "Diversity is not about counting people, it's about making people count. All People! Creating and standing up an entire D&I strategy all at once under this amount of pressure is a challenge most diversity officers would never face. I am fortunate to be supported by a phenomenal 20 year locally owned organization, Nimbus. They have recently become our Multi-Cultural Agency of Record in addition to my main partner in our Inclusion work. Luckily the collaboration of this work extends internally to our team members and having a truly supportive executive leadership team. Diversity, Equity and Inclusion is a top priority of everyone and is ultimately led by our CEO, Steve Ritchie. I am optimistic. This work will not be easy, but it will be rewarding."
Victoria is the first African-American female to sit on the Executive Leadership Team at Papa John's International, a global brand of 120,000 team members. A 12-year passion for the Papa John's brand, Victoria is committed to using her voice to bring change and equitable opportunities, ensuring Diversity Equity & Inclusion (DE&I) are woven into the fabric of Papa John's DNA. The DE&I vision at Papa John's is to enable Papa John's team members, customers, supplier, partners, and franchisees of all backgrounds to feel included and a part of the Papa John's family; allowing the brand's diversity to be its strength and competitive advantage.
Victoria says, "I believe our challenges and opportunities right now at Papa John's are one in the same. We first began this journey in late 2017 with the creation of a D&I Committee. Team members came together to begin initiatives that would transform our culture and make Papa John's a better corporate citizen. Many other diversity executives and community leaders have aided us along the way. It's not about Pizza, it's about People."
Regarding her motivations in pursuing the University of Kentucky MBA program, Victoria says, "I was a bit of an over achiever back then and through having excellent mentors I was able to graduate from undergrad in 3 years. My mentor and role model at the time, Diana Holmes, who is also a UK MBA Alumna, encouraged me to pursue the next level and I'm very glad that I did. In addition to the recognition the degree carries, I feel that the UK MBA prepared me to think and perform differently when entering the workforce."
For candidates possibly considering an MBA Victoria offered some advice saying, "Go for it! If someone can invest in themselves and their future, then it sounds like the decision is already made. The education you'll receive plus the expansion of your personal and professional network will open many doors and create opportunities. The possibilities are endless."
She also reflected on her years of experience with Papa John's saying, "Papa John's has been like family for the past 12 years. It's quite honestly the longest relationship I've been in other than my immediate family. The friendships and the team members make this one of the most enjoyable places to work."
Victoria graduated with both her Bachelor's degree in Marketing and Management along with her MBA from the University of Kentucky's Gatton College of Business and Economics. During her time at UK, Victoria was President of the MBA Student Association (MBASA) and held offices in the National Black MBA Association, Student Government and Alpha Kappa Alpha, Sorority Inc. After graduation, Victoria has been in several leadership roles including Lexmark, Humana, Brown-Forman and now at Papa John's for the past 12 years.