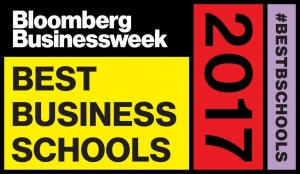 The full-time, One Year MBA program at the University of Kentucky's Gatton College of Business and Economics moved up 6 spots in the recent 2017-2018 Bloomberg Businessweek's Best Business Schools rankings survey to #74 overall, and #37 among public university MBA programs. According to this survey, the UK MBA program ranked #7 among SEC schools ahead of Missouri, South Carolina, Alabama, Arkansas, Auburn, LSU, and Mississippi State. Bloomberg Businessweek ranked each school based on surveys from recruiters, alumni, and students, as well as recent graduates' career success. 
Harvie Wilkinson, MBA Program Director at Gatton said "We're very excited about our program being recognized in Bloomberg Businessweek's Best Business Schools ranking, and it shows that our program is certainly heading in the right direction. We spend a lot of time and resources gaining feedback from our current students, alumni and business partners in the community. This feedback is essential for us to continuously improve our program each year and give our MBA talent the best opportunity to succeed in today's competitive marketplace."
Bloomberg Businessweek has ranked full-time MBA programs in the U.S. since 1988. Over time, they have shifted their methodology to focus on how well programs prepare graduates for career success. The overall score is determined through surveys with percentages broken out by employers (35%), alumni (30%), recent graduates (15%), career placement (10%), and starting salary (10%). 
For more information on the MBA program at the University of Kentucky, please contact Director of MBA Recruitment, Christopher Carney.