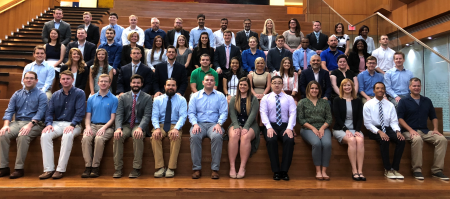 The University of Kentucky welcomes the 2018/19 Professional MBA class to the Gatton College of Business and Economics. Compared to last year, this collective class brings additional work experience with an increased number of minority candidates, veterans, and healthcare professionals enrolling into Professional MBA (For Leaders in Healthcare) program, while maintaining a high standard of academic excellence and personal/professional accomplishments. The complete class profile can be found here. 
"Our goal was to admit professionally and academically strong applicants who showed the greatest potential in expanding their skillset within their current leadership role or be better equipped to eventually advance into a leadership opportunity" said Harvie Wilkinson, MBA Program Director at the Gatton College of Business and Economics. "We looked for applicants with professional backgrounds and experiences that would bring significant value inside and outside of the classroom. We are very excited about the merits of this professional group and look forward to witnessing all of their great accomplishments throughout the year and beyond."
The Professional MBA is a part-time, evening program that brings together a diverse network of working professionals and young executives from various work experiences, companies, and industries. Candidates bring career experiences from industries such as engineering, law, healthcare, agriculture, transportation, manufacturing, technology, banking/finance, government and military. The Professional MBA program is delivered in either a two year or three track and gives students the opportunity to bring in their daily work responsibilities into the classroom and then immediately apply what they learn in the workplace the following day. Graduates and alumni of the UK MBA pursue various managerial, technical and leadership roles during their career trajectory. This program is also offered in some of the dual degree options for certain candidates. 
Please review this program's Admissions Requirements, MBA Preparatory Courses and updated GMAT/GRE Waiver Policy. For additional questions, please contact Christopher Carney, Director of MBA Recruitment at the University of Kentucky's Gatton College of Business and Economics.