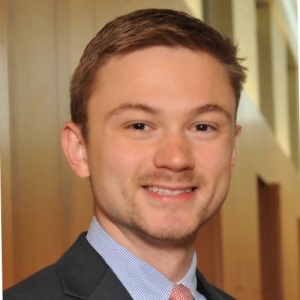 University of Kentucky alum of the One Year MBA program at the Gatton College of Business and Economics, Alex Norton, is now the Talent Supply Chain Engagement Sr. Coordinator at Amazon. In this role, Alex is responsible managing the successful flow of applicants for all entry-level warehouse opportunities from pre-application until their start date which includes: building community partnerships, attending community employment events, hosting new hire events and orientation, reporting of all vital recruiting metrics, and ensuring legal compliance throughout this entire recruitment process in the region. In addition, Alex will be working on data usability, process improvement and other special projects.
"One of the first things I heard from those inside the company is that you are in control of your own future at Amazon," says Alex. "As long as someone is working ethically within Amazon's 14 leadership principles and makes data-based decisions, there's a lot of operational freedom for ownership to get things done. Combining mentorship and resources from Amazon with my education and experience from UK's MBA program creates an incredible variety of growth opportunities that are nearly impossible to find elsewhere."
The full-time One Year MBA curriculum at Gatton incorporates a diverse mix of core business courses, electives, professional workshops, team competitions, certifications, and career support to help candidates become well-rounded and nimble in their career success. Candidates also get to participate in Project Connect in this program which allows them to work on real-world projects of importance and apply what they are learning in class in real-time. As a result, graduates and alumni of the UK MBA program are equipped to pursue various managerial, technical and leadership roles at a variety of companies and organizations in Kentucky and beyond.
"Amazon is also a very data-driven company and the quantitative/data analytics courses in the UK MBA program really helped me be prepared for this opportunity" says Alex. "Amazon is one of the biggest and fastest moving companies in the world for a reason and getting a chance to learn from an industry leader is an amazing way to start a career."
In addition to the investment that Gatton makes in providing a cross-disciplinary curriculum that will be valuable in today's marketplace, Gatton also goes to great lengths to attract quality faculty who can bring valuable experiences and insights into the classroom for the UK MBA candidates.
"The professors at Gatton really cared about student's learning for a career as a professional with an MBA," says Alex. "They took the time to adjust the coursework to what was going on in the business world and with our specific cohort and invested in any individual student that needed additional help. As far as my cohort, everyone was incredibly supportive of the careers of the people around them. They created a positive and challenging environment in class, and a close group of friends afterwards. Overall, getting my MBA at the University of Kentucky was not only an investment with an immediate payoff but was one of the most enjoyable years of my life."
Alex graduated with his Bachelor of Science in Psychology with a focus in Neuroscience from the University of Kentucky before enrolling into the One Year MBA which is designed for young professionals, recent graduates and emerging leaders across all majors and academic backgrounds. While enrolled in the UK MBA program, Alex was also the MBA Student Association (MBASA) President. Alex was also a participant in the University of Kentucky Honors Program, Psychology Scholars Program, Beta Upsilon Chi (Brothers Under Christ) Fraternity cell group leader and secretary, Cats for Christ campus ministry vice president and did independent neuro-behavioral research exploring brain function, addiction and choice behaviors.