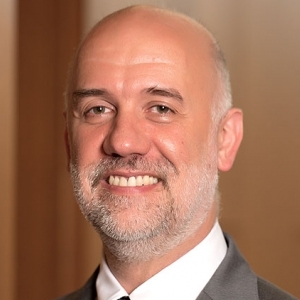 Effective July 1st of 2019, Dr. Paul Childs assumed the Associate Dean for Graduate Programs role at the Gatton College of Business and Economics, replacing Dr. Ken Troske. In addition, Paul will also serve as the Director of Graduate Studies (DGS) at Gatton. 
As the Associate Dean of Graduate Programs, Paul will help supervise and coordinate the administration, governance and growth of the graduate programs at Gatton, serve as an additional point of contact for graduate students and be a trusted liaison among the graduate students, faculty, staff and the Graduate School at the University of Kentucky. One of Paul's visions is to expand the reach of the UK MBA program along with developing strategies that will continue to attract the best quality candidates who will impact the communities that the program serves, professionally and personally.
"This is an exciting opportunity for the Gatton College of Business and the University of Kentucky's MBA program," says Paul Childs. "First, we are working on making our MBA programs more flexible and accessible for working professionals. Also, we plan to add more concentrations like the Entrepreneurship and New Venture Creation which is launching this Fall of 2019. Our Professional MBA and the Professional MBA (For Leaders in Healthcare) programs will offer synchronous, online delivery through the Real-Time, Online MBA option. As a result, professional candidates from all over Kentucky (and beyond) can now access our technology and attend classes with traditional, face-to-face students in an engaging, interactive hybrid classroom experience." 
Harvie Wilkinson, University of Kentucky MBA Program Director, says "We're very excited to have Paul on board. His professional experience and academic background will certainly add value to the MBA curriculum and better equip our candidates with the skills and knowledge they need to excel in a very competitive marketplace."
Paul adds, "Our plan is to continue working with students, faculty, staff, alumni and business leaders to help our programs continuously improve and evolve to meet the ever-changing needs of students, employers and the community that we proudly serve as the flagship institution in the state of Kentucky."
Paul Childs received his Ph.D. in Finance and an M.A. in Mathematics from the University of Wisconsin, along with a B.S. in Mathematics and Statistics from Purdue University. He was previously the Department Chair of the Finance and Quantitative Methods Department at the Gatton College of Business and Economics.