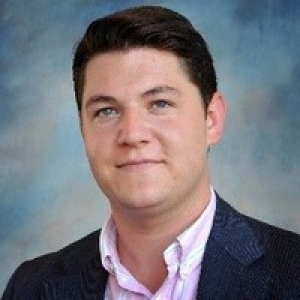 University of Kentucky MBA alum Jacob Schlarman is a Clinical Project Manager at CTI Clinical Trial and Consulting Services. Headquartered in Covington, Kentucky, CTI is a global, privately held, full-service contract research organization (CRO), delivering a complete spectrum of clinical trial and consulting services. CTI's focused therapeutic approach provides pharmaceutical, biotechnology, and medical device firms with clinical and disease area expertise in rare diseases, regenerative medicine/gene therapy, immunology, transplantation, nephrology, hematology/oncology, neurology, infectious diseases, hepatology, cardiopulmonary and pediatric populations.
As a Clinical Project Manager, Jacob is responsible for managing the client, as well as the scope and functional team members (Biostatistics, Data Management, Monitoring, Regulatory, Safety, etc.) assigned to a clinical trial. 
"I've had the pleasure of working on clinical trials in chronic kidney disease, kidney transplantation, Niemann Pick Type C disease (rare, orphan lysosomal storage disorder), and Choroideremia (rare eye condition which leads to blindness)," says Jacob. "Through the UK MBA, I gained the knowledge of managing projects, leading teams, building partnerships and tracking financial performance. The MBA program also trained me to think strategically and outside the box which is crucial in my position as issues arise and trials are constantly evolving."
Jacob is a graduate of the competitive Engineering/MBA Dual Degree, which is a unique program that intersects technology and business, awarding both the Bachelor of Engineering and Master of Business Administration (MBA) degrees at the College of Engineering and the Gatton College of Business and Economics at the University of Kentucky. The Engineering/MBA is coupled with the full-time One Year MBA, which is designed for young professionals, recent graduates and emerging leaders from all academic backgrounds. 
"After completing my engineering degree, I knew I wanted to enhance my project management and problem solving skills," says Jacob. "The UK MBA program had great faculty and tremendous speakers from blue-chip companies like Alltech, Amazon, Brown-Forman and many more This was the first time in my life where I interacted with influential company leaders As a result, I am much more comfortable interacting with leadership at my company as well as the leadership of my current and potential clients." 
While enrolled in the One Year MBA at the University of Kentucky, Jacob participated in Project Connect which is the built-in internship and consulting experience whereby groups of UK MBA students work together to apply what they are learning in class to real corporate/company projects of importance in the marketplace. Jacob was on the Humana team, which is one of the largest American health insurance company and is based in Louisville, Kentucky.
Jacob says, "I loved my Project Connect experience with Humana. Working with my team, who all had different academic backgrounds and ways of thinking, allowed us to bring a diverse skill-set to the table. Project Connect helped me gain more confidence in interacting with the leadership team at Humana. For the projects, we worked with Humana's Human Capital Analytics department to finds ways to gain insights from the substantial amount of employee and onboarding feedback they collect. The goal was to improve the experience, performance, and retention of Humana's associates based on data analyses. Using various statistical methods, we were eventually able to present our recommendations and process improvements to Humana." 
As far as advice for candidates considering an MBA, Jacob says, "Obtaining an MBA will be helpful in many career fields and over the long-term. Within my career so far, the UK MBA laid the groundwork for me to be a productive team member and serving the needs of clients."
Since joining CTI in 2017 as a Research Associate, Jacob has advanced to a Clinical Project Coordinator then to his current role as a Clinical Project Manager. Jacob graduated from the University of Kentucky's College of Engineering with his Bachelor of Science (B.S.) degree in Biosystems Engineering along with his MBA from the Gatton College of Business and Economics.