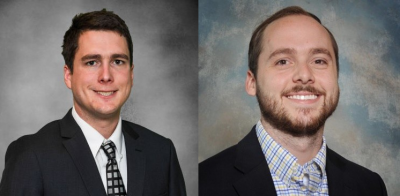 UK MBA alumni and University of Kentucky's College of Medicine fourth-year medical students, Kyle Taylor and Sean Butterbaugh, recently found out on Match Day where they will continue their medical education in their residency programs. Along with approximately 130 other UK medical students, they opened the envelopes that would reveal their residency destinations which ranged from plastic surgery, psychiatry and ophthalmology as well as family medicine, internal medicine and pediatrics.
For Sean, he matched into a psychiatry residency program at Atrium Health in Charlotte, North Carolina. Kyle matched into internal medicine at Wright State University in Ohio.
Recognizing that healthcare and business are becoming increasingly interconnected, the University of Kentucky's Gatton College of Business and Economics and the College of Medicine designed the MD/MBA Dual Degree program awarding both a Medical Doctorate (MD) and Master of Business Administration (MBA) degrees in five years. Both Kyle and Sean were graduates of the MD/MBA dual degree and recently shared their experiences in Gatton's MBA program.
"Healthcare is a rapidly changing field and for a physician to provide great medical care to patients, I felt it would be greatly beneficial to understand more about the healthcare industry as a whole," says Kyle.  
"When going through the residency match process, the UK MBA definitely set me apart as an applicant and my experiences during my internships in the UK MBA program were brought up frequently, particularly during behavioral interview questions," says Sean. 
Project Connect is the unique, built-in internship experience in the One Year MBA program at Gatton. UK MBA student teams are paired with companies to work on projects of importance to their corporation or organization and happens simultaneously with their coursework. These projects focus on core business processes such as data analysis, marketing, research, growth strategy, supply chain management, logistics and operations. 
Both Sean and Kyle were paired with UK Healthcare during their Project Connect internship experience in the UK MBA program. In the first semester of Project Connect, they were able to apply marketing and organizational principles that they learned in class to improve the effectiveness of UK Healthcare's Physician Liaison Program. In the second semester, they applied Six Sigma principles to evaluate and improve the efficiency, related to wait time, in UK Healthcare's Orthopaedic Surgery and Sports Medicine Department.
By applying what they learned in the classroom to real projects at UK Healthcare, Sean and Kyle now feel better prepared to pursue some of their professional career goals as physicians and future leaders in healthcare. 
"I am interested in improving the utilization of psychiatric resources and integrating psychiatry into primary care," says Sean. "The courses in the UK MBA taught me the tools and language necessary for communicating with non-clinical healthcare administrators, how to understand my role in an organization, and ways to influence decision making. There is a commonly perceived disconnect between clinical and non-clinical stakeholders within a healthcare organization, and I intend to work to bridge that gap in my career. I believe my MBA is essential in achieving this goal."
"Patient care is becoming more dependent on a team delivery model and the tools of interprofessional leadership taught at UK's MBA program were very educational and beneficial, as well as fun," says Kyle. "Medical students with any interest in leadership, administration or healthcare finance should consider an MBA." 
The full story on UK Now about Match Day can be found here.