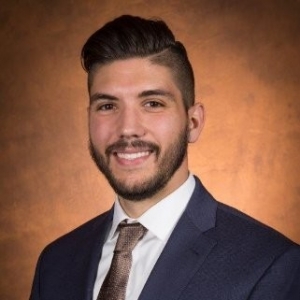 University of Kentucky's Pharmd/MBA dual degree alum, Anthony Marti, is now the Manager of Payor Strategy at Promius Pharma in Princeton, New Jersey. Promius Pharma designs personal and practical health care solutions and is a wholly owned subsidiary of Dr. Reddy's Laboratories, one of India's largest and most respected global pharmaceutical companies. Founded in 1984 by Dr. K. Anji Reddy and with approximately 20,000 employees, Dr. Reddy's Laboratories manufactures over 190 medications which are sold across the world.
"Originally, pursuing an MBA was to help me stand out with potential employers," says Anthony. "However, I quickly realized that I was gravitating towards career paths in healthcare that relied heavily on the knowledge and thought processes that I was developing in the MBA program." 
In Anthony's new role, he plans, builds, and executes payer marketing campaigns, develops pricing and rebating strategies, manages vendor relations, and develops value story generation for Promius' medications. 
"Whether it is putting together an annual budget, building marketing pieces, or understanding potential ROI based on various tactical opportunities, these are all skills I developed in the MBA program at the University of Kentucky, " says Anthony. 
Anthony is an alum of the PharmD/MBA Dual Degree, which awards both the Doctor of Pharmacy (PharmD) and Master of Business Administration (MBA) degrees at the University of Kentucky. The PharmD/MBA dual degree program is designed to provide students with the necessary educational foundation to practice as a pharmacist, but also assume leadership and managerial responsibility in a variety of health care settings.
Anthony says, "The MBA courses in management, marketing strategies, analytics and more have all been instrumental in my career development. However, I believe my confidence in contributing positively in a business environment has been most key. The UK MBA has equipped me with the necessary business acumen to be confident no matter the situation." 
In response to advice for a pharmacy student considering an MBA, Anthony says, "An MBA is extremely versatile whether you want to work in a retail, clinical, or corporate setting. If you think about it, as pharmacists, we are the healthcare provider that physically sees the cost of a patient's medications and are often tasked with helping patients navigate the healthcare landscape between insurance companies, providers and their prescription. All these stakeholders have unique business models and motivating factors. By having a strong foundation of business understanding, it helps you stand out among your peers and become the most effective healthcare provider you can be." 
While earning both his PharmD and MBA from the University of Kentucky, Anthony has his Six Sigma Green Belt and Global Commerce and Strategy certifications. He has also completed Executive Level Presence and Account Strategy Framework trainings through The Brooks Group. He was also an Eagle Scout with Troop 42, AMCP's State Advocacy Coordinator for New Jersey and a representative for the Professional Programming Committee of IPhO. He's also involved in a side-project and is creating a free podcast to educate listeners on new healthcare legislation/laws, ethics, clinical topics/update and journal article reviews from both a consumer and industry perspective.