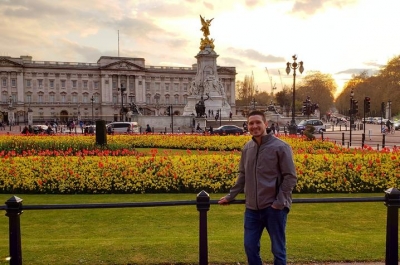 University of Kentucky MBA alum Brian Barr is literally bringing smiles to all over the world as the Global Operations Manager at SmileDirectClub where "everyone deserves a smile they love." Founded in 2014 and headquarters located in Nashville, TN, they are the first digital brand for straightening a smile and are bringing disruptive change to the invisible aligner market. As a result, they're helping customers avoid office visits and cutting costs and saving money for a much better smile to approximately 600,000 customers worldwide.
As the Global Operations Manager, Brian's roles oversee the production of goods and the provision of services that are helping the company expand internationally. Barr travels quite a bit for his job and he has worked on two projects in Australia and one in the United Kingdom, he has other countries on his schedule too. The challenges and problem-solving are what Barr enjoy most about his job.
"It allows me to combine strategy with problem-solving to ensure customers all around the world have access to straighter smiles while benefiting from lower pricing."
He earned two degrees while attending UK, a bachelor's in finance with a minor in international business in 2014 and a Master's in Business Administration which he completed through the One Year MBA program in the Gatton College of Business and Economics in 2018. The education he received and all that he learned at UK, benefits Barr as he travels the world and continues to grow in his chosen field
"Leading a business requires analytical skills to both identify direction and business options as well as people skills to collaborate and align a path to victory. UK gave me a chance to build these skills," said Brian. 
Brian plans to apply the knowledge he gained at UK, throughout his career and in his international travels and use it to make a difference in the world. Ultimately, he wants to become a business owner and through that business address homelessness and nature conservation.
Brian described his time at UK as informative, enlightening, educational and fun. In 2011, Barr helped to reestablish the fraternity, Beta Theta Pi on UK's campus and was involved in Students Taking Action Globally. As a founding member of his fraternity, he learned the importance of brotherhood and forming bonds that last a lifetime. 
Click here to read the full story on UK NOW: "Alumnus Helps Brighten Smiles Around the World"