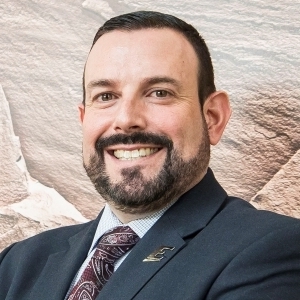 Eastern Kentucky University Board of Regents named University of Kentucky MBA and Gatton College of Business and Economics alum Dr. David McFaddin the interim president of Eastern Kentucky University (EKU) and assumes his leadership duties as of January 6th, 2020. Before being named interim president, Dr. McFaddin was the senior vice president for operations and strategic initiatives at EKU.
"I'm honored and humbled to be named interim president and excited to continue my service to Eastern in an expanded capacity," says Dr. McFaddin. "I know there is no time to wait when it comes to conducting the university's business. As a member of the President's Council, I have a fundamental understanding of the pressing issues and priorities facing EKU."
In his current role at EKU, Dr. McFaddin is responsible for programming and operations at EKU's regional campuses, student life, EKU athletics, dual credit, conferencing and events, communications and brand management, community relations, Model Laboratory School, Student Government Association, WEKU public radio, the Center for Entrepreneurship and Economic Development, regional stewardship and the Center for Workforce Development. He also leads EKU's legislative and policy agenda at all government levels, championing issues that include higher education policy, research funding, public private partnerships and workforce development. He has taught master's and undergraduate level classes in communications and ethics.
A native son of Kentucky, Dr. McFaddin holds a doctorate in educational leadership and policy studies from EKU. He also holds a master's degree in business administration from the Gatton College of Business and Economics at the University of Kentucky and a B.A. summa cum laude from EKU with a major in public relations. Prior to joining the University, Dr. McFaddin held regional and statewide leadership posts with AT&T, a Fortune 10 company and the largest telecommunications provider in the U.S., for nearly 15 years. His tenure there included major legislative, regulatory and strategic initiatives that paved the way for billions of dollars of capital investments in Kentucky.
Please refer also to the full article "McFaddin Named Interim President of EKU" on EKU's site here