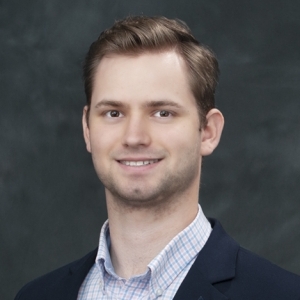 University of Kentucky MBA alum, Grant Marciniak, was recently promoted to Group Manager of Planning and Business Processes at Norfolk Southern Corporation, one of the nation's leading transportation companies. The core function of Grant's new role is to support a specific marketing group, which in this case is coal, and includes forecasting, fielding questions from senior management and enhancing the ways they utilize technology to disseminate information.
"I was introduced to Norfolk Southern at a career fair in Gatton," says Grant. "After graduating from the UK MBA program, I was hired on as Management Trainee. Upon learning the nuances of the utility coal market, I became a Market Manager where I worked with several large utility and industrial customers prior to being promoted to my new role as the Group Manager of Planning and Business Processes."
After graduating with his degree in Chemical Engineering in 2016 from the College of Engineering at the University of Kentucky, Grant started the One Year MBA program through the competitive Engineering/MBA Dual Degree program which is only available to UK engineers. The University of Kentucky's Engineering/MBA dual degree is a unique program that intersects technology and business, awarding both the Bachelor of Engineering and Master of Business Administration (MBA) degrees to help candidates drive future innovations in both technology and business in a high-tech global economy.
"I had a strong technical background from engineering that translated well to solving problems, however, I lacked an ability to articulate my findings," says Grant. "Through my time in the MBA program, I learned the value of translating detailed analysis into succinct and persuasive arguments. This seems like an easy skill to master, but in my experience, it is an underdeveloped quality that helps differentiate employees early in their careers."
Candidates enrolled in Gatton's One Year MBA program take advantage of the built-in internship experience called Project Connect. With Project Connect, student teams in the UK MBA program are paired with companies to work on projects of importance to their corporation or organization. These projects focus on core business processes such as: data analysis, marketing, research, growth strategy, supply chain management, logistics and operations.
"Project Connect was a great experience for me, which was with LG&E and KU," says Grant. "I'm confident partnering specifically with LG&E/KU was a large reason why Norfolk Southern had interest in me and resulted in my eventual path to working with our coal group. Building relationships and experience by working on important projects for a major company helped enhance my resume and allowed me to become a more desirable candidate."
The UK MBA is currently building the 2020 class in the One Year MBA program along with identifying qualified candidates for the Engineering/MBA dual degree experience. Visit gatton.uky.edu/mba for more information.
When asked what advice Grant would offer to engineering candidates interested in the UK MBA, he said, "An engineering degree is extremely valuable, and the rigorous coursework will serve you well in any field. However, if you have ambitions to take on positions of management or open doors to different career paths in the future, then I would strongly recommend considering getting an MBA. I thought the diversity of coursework provided by an MBA would benefit me in the long run, but I'm seeing results much sooner than I anticipated. One of the great things that speaks to the quality of the program is that I know my story is not unique; this is another data point for people considering the program to reference when making a decision."
Norfolk Southern Corporation (NYSE: NSC) is one of the nation's premier transportation companies. Its Norfolk Southern Railway Company subsidiary operates approximately 19,500 route miles in 22 states and the District of Columbia, serves every major container port in the eastern United States, and provides efficient connections to other rail carriers. Norfolk Southern operates the most extensive intermodal network in the East and is a major transporter of coal, automotive, and industrial products.