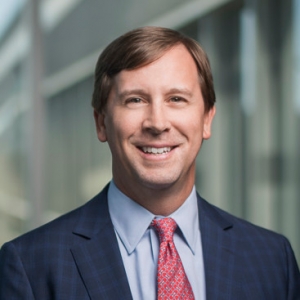 University of Kentucky MBA alum of the JD/MBA dual degree program, Jonathan Skeeters, was recently featured in the Nashville Business Journal's "The Boss" series which profiles influential leaders in the Nashville business community. Jonathan is the current Chairman and Managing Partner of Birmingham-based Bradley Arant Boult Cummings, LLP.
Jonathan leads Bradley which consists of more than 500 attorneys, located in 10 offices across the U.S, and has received numerous accolades which includes 252 of their attorneys being listed in The Best Lawyers in America® (2020); U.S. "Law Firm of the Year" for Construction Law (2018); "Leading Firm" in Tennessee for Banking & Finance, Corporate/M&A, Healthcare, Intellectual Property, Labor & Employment, Litigation, Media & Entertainment and Real Estate; and among many others. A full list of Bradley's recent accolades can be found here.
"What I'm doing now is trying to lead this firm, but more importantly making a difference for other people: attorneys, the staff, our clients," says Jonathan. "This is what I enjoy doing the most."
Jonathan received his MBA and JD from the University of Kentucky through the JD/MBA Dual Degree program. This unique 3-year program reinforces instruction and experience obtained in the other, and allows qualified students to pursue specialized, blended careers in law and management. 
Bradley is a member of the World Services Group (WSG), representing Alabama and Mississippi. WSG is a global membership network of more than 130 leading professional services firms operating in over 115 countries and across the U.S. WSG members are part of the world's largest reserve of legal, accounting and financial service providers. Through innovative access and technology, WSG offers members and clients immediate access to prospects, information and leading experts with a recognized record of superior service.
The full article and interview titled 'Bradley Chairman of the Board and Managing Partner Jon Skeeters featured in Nashville Business Journal's "The Boss" Series' can be found here.