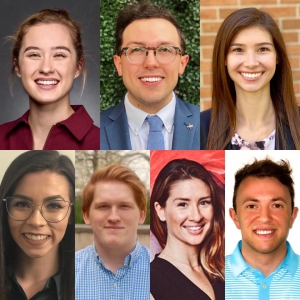 The MBA Student Association (MBASA) leadership team for the 2020-20201 class at the University of Kentucky's Gatton College of Business and Economics was recently announced which includes the following students (pictured left to right starting on the top row):
"The team has been excited to get to work and we began getting organized immediately after our elections," says Spiral Horn, MBASA President. "Our goals include creating a team atmosphere within our cohort where everyone is valued for their contributions, our diverse backgrounds both professionally and academically, and taking advantage of the different opportunities to lead and develop ourselves into successful businesspeople this year. We will be emphasizing inclusion as a main pillar in our mission this year which will be the base of all of our decision making from social events to philanthropic endeavors to partnering with various organizations across our UK campus."
The MBASA is a group of current University of Kentucky MBA students who represent the entire MBA class with the mission of enriching the quality of student life by building relationships among fellow students, faculty, administration, alumni, prospective students, and the business community. The MBA Student Association officials are selected by their peers, along with the input of staff and faculty, to help lead the class in areas of professional development, social events, community service, diversity and inclusion, and student engagement.