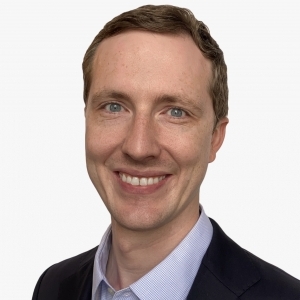 University of Kentucky MBA alum, Ben Hodson, is the director of US operations for Weber-Stephen Products, LLC, which is the world's premier manufacturer of charcoal, gas, electric and pellet grills, grilling accessories, award-winning cookbooks, and mobile applications. In this role, Ben manages the production teams at their Huntley, Ill. facility where they manufacture charcoal and gas grills. 
"We are a passionate team who works diligently to ensure friends and families around the world can come together around our grills," says Hodson.
Weber-Stephen Products (better known as Weber Grills) pioneered the iconic kettle-style charcoal grill in 1952. Since then, Weber has continued innovating charcoal and gas grills to the enjoyment of people in backyards everywhere.
"When I purchased my very own Weber kettle grill a few years ago, I never imagined I would find myself working at the very plant where it was manufactured," Hodson commented. "It's our goal to respect our storied history and challenge our thinking to ensure current and future generations enjoy a Weber grill with the quality and innovation our brand is known for."
After graduating from the University of Kentucky's College of Engineering with his degree in Electrical Engineering, Hodson decided to pursue the One Year MBA as a student in the Engineering/MBA dual degree program which awards qualified UK engineers both a Bachelor's degree of Engineering and a Master's of Business Administration (MBA) degree.
"While pursuing my undergraduate degree, I completed alternating engineering co-op semesters at General Electric Appliances," says Hodson. "I found myself very well equipped for solving technical problems, but wanted to increase my business acumen in order to be more competitive for leadership opportunities in my career. A mentor of mine urged me towards the Engineering/MBA Dual Degree program, which has served me well through the first decade of my career."
The One Year MBA program at the University of Kentucky is open to all majors and academic backgrounds and is designed for young professionals, recent graduates and emerging leaders. The goal is to help students be more nimble, agile and versatile through a wide range of core courses (and electives) to help students achieve long-term career success.
"The UK MBA prepared me well to navigate a wide range of business scenarios and I've been able to leverage many of the courses since graduating from the program in 2011," says Ben. "Given my tenure in supply chain and operations, I've relied specifically on the supply chain management courses. Partnering with finance leaders, I've also been able to better understand trade-off decisions because of the financial and managerial accounting courses in the UK MBA."
In recognition of the increasing need for the integration of technology and business skills, the Engineering/MBA dual degree program was established between the College of Engineering and the Gatton College of Business and Economics at the University of Kentucky. The goal is to give qualified UK engineering students the additional leadership, critical thinking, communication, problem solving and team-building skills while increasing their knowledge in economics, finance, marketing, management and much more in order to better lead strategic initiatives in high-tech, operations and manufacturing companies.
Hodson believes that, "Engineers make effective business leaders." He explains, "Our ability to absorb technical details, parse through myriad inputs, and design a better future are strengths we bring to the table. When an engineer couples their technical expertise with an MBA, they're prepared to better collaborate across disciplines and lead their team to do the same."
In 1952, George Stephen sparked a backyard revolution with his invention of the Weber® kettle. Nearly 70 years later, Weber continues to inspire grilling experiences worldwide from their corporate headquarters in Palatine, Illinois.