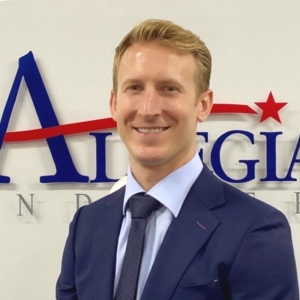 University of Kentucky MBA alum, Chris Rodonis, is the current Chief Operating Officer at Allegiance Industries, Inc., a leading facilities management company focusing on janitorial, security, and electrical services that utilize technology and innovation. As COO, Chris oversees all operations at Allegiance and targets customers who are in the industrial manufacturing sector, based in the US.
"During the COVID-19 pandemic, Allegiance has been essential to many of its customers, allowing manufacturing plants to remain open and operate safely," says Chris. "Allegiance has been able to do this by offering a strategic approach of sanitizing and disinfecting work stations for our customers in accordance with CDC Guidelines."
After graduating from the University of Kentucky with his Bachelor's degree in Finance, Chris decided to pursue the One Year MBA program at UK's Gatton College of Business and Economics which is designed for young professionals, recent graduates and emerging leaders.
Rodonis says, "UK MBA Program taught me how to use, rely, and build a team. Within a team, you may have conflicting points of view, strategies, or personalities however it's important to learn how to win together. At Allegiance, we enjoy building teams and working with so many individuals from different backgrounds. We hire fantastic people that have made working within our industry easy and fun."
One of the unique experiences during the One Year MBA program is the built-in internship experience called Project Connect. Project Connect gives student teams assignments on real-world projects of importance to their corporation or organization while in conjunction with their coursework. Chris was on the Project Connect team with Humana.
"Project Connect was the primary driver for picking the UK MBA," says Rodonis. "Working on a team with other MBA students on real-world projects of importance and receiving feedback from that company's leadership team was very rewarding. Project Connect taught me that no matter how hard you work as an individual, your success will always hinge on those around you. The most difficult challenge in business is to build a strong team who all are working towards the same goal, with enthusiasm."
While pursuing an MBA at the University of Kentucky, students build strong relationships with their classmates and peers through the cross-disciplinary courses, electives, certifications, Project Connect internship, professional development, networking and other engagement opportunities.
"The UK MBA program allows you to bond with classmates in a vastly different way than undergrad, which forms a unique and long-lasting bond. The team that I worked with during our Project Connect internship experience, I still remain in close contact with 10 years later."
During these challenging times, Allegiance Industries believes the value of clean is measurable and more important than ever. Routine cleaning practices keeps the work environment healthy and productivity high when properly implemented.
Rodonis says, "We are honored at Allegiance to offer services that help businesses continue to take care of their business. We want your facilities to do more than just operate, we want it to perform and perform safely."
Allegiance Industries, Inc. is a leader in full-service integrated facilities maintenance, serving clients in industries ranging from manufacturing to healthcare. Founded in 1988 as a commercial cleaning company, Allegiance Industries has evolved into a diversified, multi-divisional facility services provider. More than 30 years and 14 million man-hours later, Allegiance provides professional, innovative services to facilities throughout the United States. Allegiance Industries is headquartered in Columbia, SC and have 1,200+ employees currently. Some of their clients include UPS, Caterpillar, Maytag, Tupperware, American Red Cross, Hormel and many more.