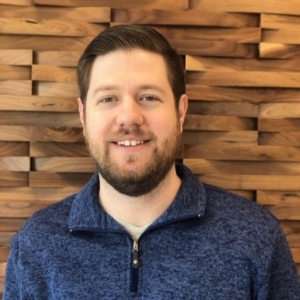 University of Kentucky MBA alum Clint McCrystal is celebrating ten years with LeanCor Supply Chain Group. As LeanCor's Training and Development Manager and with 100 new team members and more than 350 Lean Six Sigma Green Belts trained through the years, Clint has managed to stay connected with the university in various ways.
LeanCor Supply Chain Group is a supply chain company that provides training, consulting and third-party logistics services across multiple industries from its headquarters in Florence, Ky. and has hired several UK MBA grads over the company's 15-year history. Additionally, LeanCor has been the provider of the UK MBA program's Lean Six Sigma Green Belt training since 2010, with Clint taking over as lead instructor and coach in 2017. This program is a unique offering between the university and LeanCor, as it creates a blended learning environment for students to receive professionally recognized certifications in Lean Six Sigma while completing a value-added project for local companies.
Clint began his career with LeanCor in 2010 after completing his Engineering/MBA Dual Degree with an undergraduate in Mechanical Engineering from the University of Kentucky's College of Engineering, which blends the completion of a bachelor's degree in Engineering with the One-Year MBA program. 
"After studying Mechanical Engineering for four years, the MBA allowed me to connect my analytical skills to communication and soft skills in a way that developed my confidence in preparing and giving presentations," says Clint. "The business experience also added versatility to my toolbox, allowing me to be more competitive for roles outside of design and operations."
Starting as a Lean Logistics Specialist in the third-party logistics arm of the company, Clint held roles in team leadership and consulting on his way to his current training position. Clint serves as a leading voice in Team Member Training and Development within LeanCor and leads problem solving and leadership training for external clients. He designed the current team member onboarding program for new team members and played a pivotal role in implementing the LeanCor people management system.  For Clint, a typical day includes coaching team members through projects, coordinating future training events, creating new training content, and supporting rollouts for strategic people-centered initiatives.
"MBA candidates should pay attention to the breadth of business topics so that doors for entrepreneurship and management are more easily opened," says Clint. "Leadership, ownership, and situational critical-thinking are translatable tools for any organization, in any industry."
Since 2010, LeanCor estimates that they have trained well over 700 students in Lean and Six Sigma through the partnership with the University of Kentucky alone. Clint and LeanCor are seeking to connect back with Lean Six Sigma Green Belt graduates to foster a community of learning and best practice. If you are an alumni of LeanCor's Green Belt training prior to 2019 and only received a hard copy of your Green Belt Certification, LeanCor is offering to provide you a soft copy of your certificate for your digital records. If you are interested in connecting, LeanCor Supply Chain Group is active on LinkedIn or by email at training-team@leancor.com.