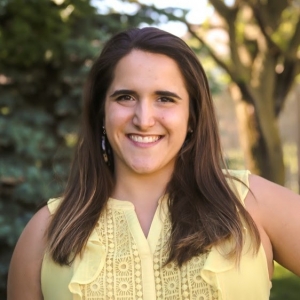 Current working professional and alum of the Professional MBA program at the University of Kentucky's Gatton College of Business and Economics, Nicole Bianco, is starting her own online nutrition coaching service. As a registered dietitian and nutritionist, Nicole is motivated by improving athletic performance through the empowerment of elite athletes with evidence-based, nutrition-related tools and practices.
"I provide online nutrition coaching to a variety of clients, with an emphasis on high school athletes and active individuals, says Nicole. "Through nutrition coaching, I come alongside the client, and as a team we work together to aid in behavior modification that leads to long-term sustainable practices. Every client is different, with unique needs, and my program flexes to meet those needs. My program puts a large emphasis on cooking knowledge and skills. My mission is to help clients lead healthy lives starting now, so they can have healthier futures."
After graduating with her bachelor's degree from Purdue University with a dual major in Nutrition Science and Dietetics in 2015, Nicole became a Registered Dietitian & Food Service Supervisor at Valparaiso University followed by a Team Sports Dietitian and full-time internship position at the University of Illinois at Urbana-Champaign. Nicole eventually came to the University of Kentucky in 2018 and was a Sports Nutrition Graduate Assistant until May of 2020.
Nicole says, "With getting my MBA, I wanted to develop a new set of skills that complimented my dietetics knowledge and enhanced my business knowledge. Owning my own business has always been a goal for myself. As a result, I wanted to further my business knowledge to help develop my entrepreneurial interests further."
Nicole enrolled in the Professional MBA program at the University of Kentucky in 2018 and graduated in 2020 in the 2-year professional track option. The Professional MBA at the University of Kentucky is a part-time program designed for full-time working professionals all over Kentucky and beyond. Candidates bring relevant work experience from a myriad of industries and now have the option of pursuing the program 100% online in real-time in the Real-Time, Online MBA option. 
"My favorite part of the program was the entrepreneurship concentration," says Nicole. "Our group met several times per week and partnered with a local biotech startup to develop a pitch for investors. I learned that even if I have a great idea, but if there isn't a need, then it's probably not a great idea. Starting your own business is certainly hard work, and it's not going to be perfect, but I truly believe it's how you ride the waves of success and failure that ultimately help you accomplish your mission. Failure is feedback and facilitates an improved product or service. I learned, too, the importance of investing time and resources into a business to make it worthwhile." 
In the Professional MBA program at UK, candidates can interact, network and engage with other working professionals, industry leaders and leading executives. Offered in two-year (20 months) and three-year (32 months) plans of study, students bring their daily work responsibilities into the program and then immediately apply what they've learned in real-time to their professional roles.
Nicole says, "The networking was one of my favorite parts of the MBA program. I've made so many good friends and it was a privilege to work alongside so many talented professionals, get to know them and work together to succeed in the program. While we all came from different backgrounds, we all had similar reasons for getting the MBA and it was a breath of fresh air to work among like-minded individuals." 
For more information on the Professional MBA program at the University of Kentucky, visit gatton.uky.edu/mba.
Those interested in an MBA or becoming an entrepreneur, Nicole provides the following advice, "Consider where you are now, and where you want to go further down the road and do this more than once. And ask yourself, as well as recruiters, program graduates, if the MBA will help get you there. When deciding on a master's to pursue, I personally wanted something meaningful that aligned with my vision for my career and my mission. As far as becoming an entrepreneur in 2020, some may say it's the worst time, but a good entrepreneur sees an opportunity, snatches it up and turns it into something useful, valuable and helpful. My entrepreneur professors often reminded us that failure and obstacles are inevitable, but it's how you pivot as a result of those obstacles that ultimately helps your mission succeed." 
Nicole Bianco Dietitian, LLC is an experienced Registered Dietitian with a demonstrated history of working in NCAA Division 1 athletic programs. As a Sports Nutrition Graduate Assistant at University of Kentucky, Nicole was responsible for the nutrition management of 8 NCAA Division 1 Athletic teams which includes medical nutrition therapy, nutrition coaching, managing food inventory systems and supervising undergraduate dietetic students. She's also coached athletes in soccer, baseball, cheerleading, golf and more to improve their body composition measurements. Contact Nicole Bianco here for more information on her services.