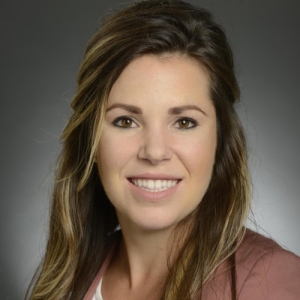 University of Kentucky MBA and Gatton College of  Business alum, Ashley Bielefeld, is currently the Business Development Manager for Messer Construction Co. in the Dayton, Ohio region. Headquartered in Cincinnati, Ohio, Messer Construction Co. is a construction manager and general contractor, providing leadership for complex, commercial construction projects in the aviation, federal military, healthcare, higher education, industrial, and science and technology market segments.
Ashley graduated with a bachelor's degree in Civil Engineering and an MBA from the University of Kentucky. Ashley joined Messer as a Project Engineer in 2012. 
"I started out with Messer as a Project Engineer and then was promoted to a Project Manager, which allows me to bring a unique perspective to the business development side of the industry," says Ashley. "Now, rather than building buildings, I'm focused on building relationships to strengthen and grow the community."
Recently, the U.S. Army Corps of Engineers selected Messer to build The Intelligence Production Complex for the National Air and Space Intelligence Center (NASIC). Awarded at $126.3 million, this is the largest single-site construction project in the history of Wright-Patterson Air Force Base (AFB). Wright Patterson AFB is one of the largest and most important bases in the U.S. Air Force.
"We're excited to lead this project and we look forward to delivering it with local resources," says Ashley. "This expansion will support NASIC's growth and future missions for the nation. Having this project move forward is a big deal. It keeps the expertise in air and space at Wright-Patterson AFB and grows the workforce in the Dayton region."
In 2018, Ashley transitioned to the role of Business Development Manager (Dayton, OH region) where she brings value to their client relationships, along with a background in engineering and project management. 
Ashley says, "My primary role is understanding the owner's vision and any challenges associated with their projects. Commercial construction is a fast-paced, complex, high-risk environment. My job is to clarify and streamline the construction process so owners can focus on other facets of their business. I also make sure the owner's goals align with Messer's resources and abilities." 
When Ashley first joined Messer, she was simultaneously getting her MBA at the Gatton College of Business and Economics through the Professional MBA, which is a part-time program designed for full-time working professionals all over Kentucky and beyond.
"Before I began my MBA journey, I was working full time for about a year with Messer," says Ashley." I was motivated to understand the economic drivers of different industries and have a new perspective on global commerce. The UK MBA program not only diversified my skill sets, it also gave me the opportunity to share my unique perspective with other classmates who were working full time and that had the same desire to advance." 
The Professional MBA brings together a diverse network of working professionals and executives from various industries such as engineering, law, healthcare, agriculture, transportation, manufacturing, technology, banking and finance, government and military. The Professional MBA also offers a Real-Time, Online MBA option giving working professionals the opportunity to participate, engage and learn 100% online in real-time.
"UK's Professional MBA program at Gatton was a unique opportunity to network with professionals outside of the construction and design industries," says Ashley. "I enjoyed the discussions that stemmed from conversations about real-life scenarios. It was intriguing to see our diverse backgrounds and different experiences converging to give perspective on a topic or issue. The MBA program gave me a global perspective on business and supply chains. Today, my role requires me to have conversations with clients in various industries about their businesses. Being adaptive and more strategic were two of the most valuable skills I developed from the program." 
Currently, professional engineers comprise approximately 20% of the entire Professional MBA cohort at Gatton.
Regarding advice for working professional engineers that might be considering an MBA, Ashley says, "There's never a perfect time to start your MBA journey—just do it. I'm fortunate to work for a company that values employee growth and that supported my career goals. Working in the construction industry, I learned it's important to develop a business sense early on. There are many variables that can affect the bottom line. Pursuing your MBA will strengthen your management and leadership skills—making you a well-rounded professional."
Messer Construction Co. has been employee-owned since 1990, and its transformational investment in its people and communities has enhanced the landscape of the company's 10 U.S. regions throughout the Midwest and Southeast. Messer celebrates over 20 years of service in the Dayton, Ohio region with a myriad of awards and recognitions in the community. 
The NASIC Groundbreaking ceremony is currently scheduled on November 5th at Wright Patterson Air Force Base.