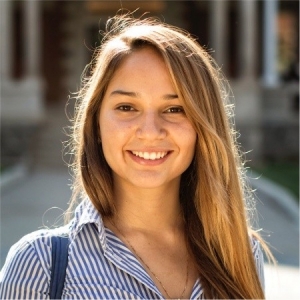 University of Kentucky MBA alum, Tiffany Larsh, was recently promoted to Sales Operations Project Manager at GE Lighting, a Savant company. In this role, Tiffany works on the Lowe's Home Improvement account for GE Lighting, which is the largest in the company. 
"I get to wear many hats," says Tiffany. "I support our sales team by managing our projects and events for successful execution. I also run our Direct Import Program and troubleshoot any issues that may come up with accounts receivables in our account." 
But Tiffany's story begins in Honduras. Growing up, she dreamed of becoming a doctor. When Tiffany chose the University of Kentucky as an undergraduate student, Tiffany realized her real interests did not lie in studying subjects like biology, but in equine science which is what Tiffany completed her undergraduate degree in back in 2017, paired with business management from Gatton. 
Ironically, she had grown up riding horses her whole life. This, combined with her mother's influence as an MBA degree holder herself, is what led Tiffany to UK and eventually to grad school where she pursued the One Year MBA at the Gatton College of Business and Economics.
"I knew I wanted to pursue graduate school to give me better opportunities when searching for jobs and fell in love with the structure of the One Year MBA program at Gatton," says Tiffany. "It was perfect for me. I got to enjoy UK as a student for one more year and work with a local company while I went to graduate school. It truly was one of the hardest and best years of my academic journey."
The One Year MBA is designed for young professionals, recent graduates and emerging leaders. One of the highlights of this full-time program is the Project Connect internship experience whereby candidates get to work on real-world projects within a team while simultaneously attending classes.
Tiffany's internship was with Alltech, which is an American company headquartered in Nicholasville, Kentucky, with operations in animal feed, meat, brewing and distilling. Alltech develops agricultural products for use in both livestock and crop farming, as well as products for the food industry. Through Project Connect, Tiffany's team developed a marketing plan and e-commerce strategy for new product in supplement market, completed target market analysis including survey creation and implementation, optimized the supply chain strategy for Alltech's animal feed division and pitched process improvement recommendations to some of the company's executives. 
"The UK MBA provides a well-rounded curriculum, which prepared me to better understand every single function I interact with on a daily basis in my current role from supply chain, marketing, accounting and finance teams," says Tiffany. "In addition, Project Connect helps you learn how to work with very different people in a team and turn out successful projects, which happens every day in the real world."
After graduating from the UK MBA in 2018, Tiffany was hired at GE Lighting as a Sales Operations Analyst. 
Tiffany says, "When I began at GE Lighting, I was managing many different projects. As our team grew and brought on more business, the knowledge that I gained from the UK MBA courses and professional certifications was so valuable. It gave me the confidence to add value immediately and grow. In addition, there were many presentations and public speaking opportunities in the UK MBA program. Thus, I am always ready to go when it comes to communicating effectively in a meeting and delivering a presentation."
In July of 2020, Tiffany was promoted to Sales Operations Project Manager at Ge Lighting. However, for Tiffany, it doesn't stop there.
"Next for me is stepping into an Account Manager's role on the team, which equates to managing more of the business and continuing to help the team attract more business," says Tiffany. "In my past two years with the company, we've introduced so many innovative solutions and I'm looking forward in continuing to grow." 
The University of Kentucky is currently celebrating Hispanic Heritage Month (observed Sept. 15-Oct. 15) with a series of events for students, faculty and staff. The goal is to engage and learn about Latino/Hispanic identities and the Latin American diaspora's diverse cultures and people. 
Tiffany reflects and says, "I love that this is being celebrated at UK and diversity was such an important part of my academic career as a student. When I first moved to Lexington, it was an opportunity for me to tell people about my beautiful country of Honduras. My advice for Hispanics and other minorities is to always be proud of your roots and not be afraid. We bring something unique to every table. We have an opportunity to be at the table. We should be excited to express ourselves while at that table. Don't ever think that your heritage is a detriment. It's a strength in any goal you set your mind on. Sigamos adelante!"