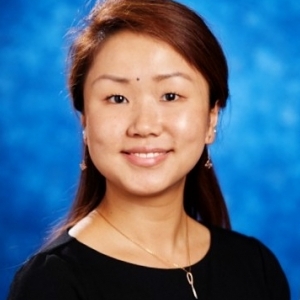 University of Kentucky MBA alumna at the Gatton College of Business and Economics, Yiting Jian, recently became the Enterprise Sourcing Category Management Analyst for The Kroger Company at their headquarters in Cincinnati, Ohio. Kroger is currently the largest supermarket chain by revenue and the second-largest general retailer behind Walmart. As of 2019, Kroger ranked #20 on the Fortune 500 rankings of the largest United States corporations by total revenue and operates either directly or through its subsidiaries, 2,758 supermarkets and multi-department stores. 
"My current role as the Enterprise Sourcing Category Management Analyst focuses on the execution of sourcing strategies for the assigned categories to drive cost savings, expand and strengthen relationships with business stakeholders and suppliers/vendors," says Yiting. "My key responsibilities including designing and leading sourcing events for the ocean and air category; business scenarios optimization analysis for minimal cost of ownership; sourcing result analysis including benchmarking, baseline cost calculations, opportunity assessments; negotiations and contract management with our contract management team; and managing supplier relationships." 
After graduating with her BS in Accounting in 2014 from the University of Kentucky's Gatton College of Business and Economics, Yiting joined the One Year MBA program which is designed for young professionals, recent graduates and emerging leaders. 
"I decided to pursue my MBA right after my undergraduate degree because I believed it would be much more difficult for me to pause and go back to school after entering my career. I chose the UK MBA program for its diverse program offerings, a wide variety of courses and the networking opportunities through Project Connect which was great exposure to project management as well as Lean Six Sigma training. My Project Connect sponsor was LBX Company, which was the first time I had the opportunity to really see and experience a work environment in a professional setting."
Project Connect is the unique, built-in internship experience in the One Year MBA program. For 32 weeks, student teams are paired with companies to work on projects of importance to their corporation or organization. These projects focus on core business processes such as: data analysis, marketing, research, growth strategy, supply chain management, logistics and operations.
During the MBA program, candidates are able to obtain several professional certifications, including the Lean Six Sigma Green Belt. After graduating from the UK MBA, Yiting started her career at LeanCor Supply Chain Group, which is a well-respected supply chain partner that specializes in lean principles which help organizations eliminate waste, drive down costs and build a culture of operational excellence. 
"LeanCor was a big part of Lean Six Sigma training in the MBA program," says Yiting. "Throughout the Lean Six Sigma training and later when I obtained my Lean Six Sigma green belt certificate, I learned a great deal of project management and managed project timelines. After graduating from the UK MBA program in 2015, I started my job search and was able to leverage the connections I made while enrolled in the MBA program. In addition, the faculty really cared about everyone's professional development and took the time to get to know their students. I know that all of these positive relationships really paved the way in me discovering my career path and LeanCor Supply Chain Group and Kroger." 
The One Year MBA brings together a diverse network of academic majors with candidates from different backgrounds and diverse skill sets. The program's curriculum incorporates a diverse mix of core business courses, electives, professional workshops and career support to help candidates become well-rounded and nimble. 
"Being able to meet students and classmates from different backgrounds was something that I really enjoyed about the UK MBA program," says Yiting. "In addition, I also enjoyed the teamwork and group collaboration especially because everyone had to hold each other accountable. Through the faculty, guest speakers and Project Connect, I was able to expand my network and referrals which was a big encouragement. The One Year MBA does have an aggressive and rigorous timeline (which suited my study and career goals), but it also helped me build stronger bonds with my classmates." 
For more information on the University of Kentucky MBA, visit us at http://gatton.uky.edu/mba.