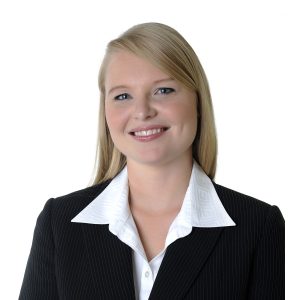 University of Kentucky's alumna of the College of Law and the Gatton College of Business and Economics, Holly Brown Powell, has been a successful business attorney at Frost Brown Todd LLC for over 12 years in Lexington, Kentucky. Putting both her JD and MBA to work, Holly specializes in mergers and acquisitions and corporate law and advises clients (ranging from large public companies to private equity to individual entrepreneurs) in a wide array of industries. 
"The core of my practice is helping my business clients accomplish their goals. Understanding my clients, their concerns and what drives their business is critical to delivering them the best service and results possible, " says Holly. "The foundation I received at Gatton with my MBA, in addition to my law degree, has been key in developing the understanding and knowledge necessary to provide practical and strategic advice."
After receiving her undergraduate degree in Accounting at the University of Kentucky, Holly pursued her MBA and JD through the JD/MBA dual degree program at UK. The University of Kentucky's Gatton College of Business and Economics and the College of Law recognize that some aspects of business and law are compatible and interrelated which opens doors to specialized employment opportunities and blended careers in both law and management. Through this dual degree program, both degrees can be completed in only three years allowing candidates to gain marketable skills in less time and with a smaller financial investment.
"I chose to pursue my MBA first to build on my undergraduate degree in Accounting," says Holly. "I learned about the JD/MBA dual degree program and decided that adding a law degree to my MBA and Accounting degrees would increase the breadth and depth of my knowledge base. Unlike many who choose law school, being an attorney was not something I considered growing up. Instead, I was always fascinated by business and spreadsheets."
As a Member at Frost Brown Todd (FBT), Holly specializes in mergers and acquisitions, business transactions and corporate law. She leads FBT's Private Equity Deal Matters Team and is active on the firm's Recruiting Committee. 
"My favorite part of my practice is collaborating on strategy with clients' business teams," says Holly. "It's a joy to team up and share ideas with talented people, all rowing together in pursuit of something meaningful." 
After graduating with both her JD and MBA from the University of Kentucky, Holly joined Frost Brown Todd. With her JD and MBA, Holly adds tremendous value as an integral member of her clients' team. She keeps the business objective of the project at the forefront and brings a positive and forward-looking approach. 
Regarding advice to candidates considering both a JD and an MBA, Holly says, "There are two components to evaluating Business Law issues. You need to understand both the relevant law and how it impacts the business to truly provide valuable counsel to future clients, companies or business partners. Pursuing a JD+MBA is a great start on the path to educating yourself about both aspects."
With over 525 lawyers practicing in 13 markets across nine states, Frost Brown Todd is one of the largest and most prestigious law firms operating in the middle of the country. It is a full-service firm offering a deep, talented roster of legal professionals that function as a team to take care of its clients' broad range of legal needs. It has offices in Kentucky, Ohio, Indiana, Tennessee, Texas, West Virginia, Pennsylvania, Michigan and Virginia.