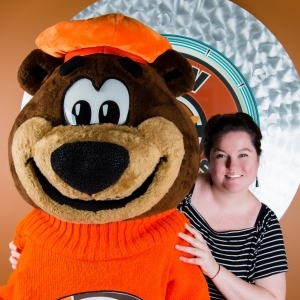 University of Kentucky MBA student at the Gatton College of Business and Economics, Elizabeth "Liz" Bazner, has recently been promoted to the Director of Digital at A&W Restaurants, Inc. with headquarters in Lexington, KY. A&W is one of the best-known restaurants and was America's first franchised restaurant chain. In 2018, A&W was named #4 on Time magazine's list of America's best fast-food chains. In this role, Liz will oversee A&W's national digital media buys and digital strategy while strengthening their email marketing program, local digital strategy and engagement with consumers online.
"I'm very excited for this opportunity which will increase both my responsibilities and the size of my team," says Liz. "We've spent the last few years putting a really solid foundation together and now we're ready to expand to maintain a really strong brand presence online, as well as offering best in class marketing support to our franchisees." 
Liz has held several leadership roles since joining A&W in 2012 including Senior Digital Manager, Digital Manager, Associate Manager of Digital Communications, Social & Digital Communications Strategist and now the Director of Digital. Over the past 8 years, Liz and her team have enjoyed some great successes at A&W. 
"A&W Restaurants turned 100 in 2019, making it the first restaurant chain to reach a centennial, so it was a big year all around," says Liz. "We were named both a top Food Franchise and a top Franchise overall by Franchise Business Review, which is based on feedback from our actual franchisees, so we were all really proud to be a part of that success. A&W was also rated highest in consumer sentiment for QSR brands on social media platforms, winning over brands with much bigger teams and exponentially larger budgets, which was really gratifying."
While working full-time at A&W, Liz decided to enroll in Gatton's part-time Professional MBA program designed for the full-time working professional. The Professional MBA brings together a diverse network of working professionals and executives from various industries such as engineering, law, healthcare, agriculture, transportation, manufacturing, technology, banking/finance, government and more. 
"After working in the brand marketing field for a number of years, I wanted to be able to increase my value to the company by increasing my strategic thinking capabilities and filling in my knowledge gaps." says Liz. "UK's Professional MBA was a great choice for me because it allowed me to stay local, provided a schedule that was flexible enough to allow me to keep working full time and is also affordable. It's been great to work in groups with professionals outside of my industry, which is not something that I do on a regular basis. Learning how to apply an iterative process to my projects at A&W has helped my productivity, but also my ability to articulate ideas and the reason behind them more concisely."
In 2019, Gatton launched the new Real-Time, Online MBA option which allows candidates enrolled in the Professional MBA to access the program 100% online, in the classroom or a combination of both. 
"UK has a ton of resources available for their graduate students, including professional certifications, lunch and learns and networking events," says Liz. "I think the students who excel in the program are the ones who have dedicated themselves fully to taking advantage of every opportunity available, both in and out of the classroom. Getting your MBA is challenging but well worth the time and investment."
Liz graduated from Vanderbilt University with her degree Political Science and Public Policy in 2006. She joined the Professional MBA program at the Gatton College of Business and Economics in 2018 and will be graduating in 2020. 
A&W Restaurants, Inc., America's first restaurant chain to turn 100, is one of the country's best-known and most beloved restaurants. Its original craft Root Beer, still handmade fresh in-house with real cane sugar, water and a proprietary blend of herbs, bark, spices and berries and served in a frosty mug, made its debut on June 20, 1919. A&W All American Food® is served quickly at affordable prices.