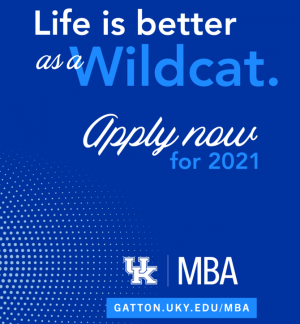 The University of Kentucky's MBA program at the Gatton College of Business and Economics is now accepting applications for 2021. The MBA suite includes the One Year MBA, Professional MBA, Professional MBA (For Leaders in Healthcare), Dual Degrees and the Real-Time, Online MBA. 
"During these times, it's even more critical that our MBA program is preparing our students to lead with confidence," says Karl Gustafson, UK MBA academic director. "Our program equips our candidates with the business and management skills needed to make a positive impact in the marketplace and more importantly, achieve long-term career success."
The UK MBA offers the following pillars, making the program a unique experience for our candidates:
A valuable and redefining business education
An instant and influential alumni network
A state-of-the-art facility with student resources (in-house and virtual)
Professional and career support through the in-house, Graham Office of Career Management
Experienced faculty, staff and team
Great city for entrepreneurs and working professionals  
More than just a business education degree, the UK MBA is a redefining business experience geared to accelerate candidate's career advancement, versatility and entrepreneurship endeavors. The program offers a suite of competitive, nationally ranked programs designed to deliver a broader understanding of business strategies and insights through engaging real-world experiences, projects and meaningful application.
The Gatton College wants to prepare graduates to be globally engaged professionals and servant leaders in their respective communities. Read more about our commitment to diversity, campus culture and success stories.
Before applying into the MBA program please review the Admissions Requirements, Preparatory Courses, GMAT/GRE Waiver Policy and FAQ's. For any questions or additional information, please contact Christopher Carney, Director of MBA Recruitment.