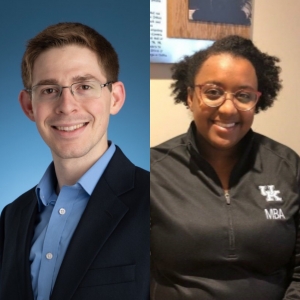 University of Kentucky's Engineering/MBA dual degree alums and classmates, William Sanders and Senait Nuguse, have recently been promoted to Senior Analyst of Revenue Management and Senior Pricing Analyst at United Airlines. Both the engineering and MBA degrees at UK have equipped William and Senait to face a very challenging year in the airline industry.
"My engineering degree and the technical skills I gained in data analytics along with the Project Connect internship and the MBA's focus on strategic thinking, allowed me to develop innovative, data driven ways to continue optimizing our revenue at United Airlines," says William. "In my new role, I'll be managing our New York City markets, while also serving as a mentor to new employees as we recover in 2021."
"I'm very grateful that what I learned during my time at UK has helped me succeed in my role at United Airlines," says Senait. "My technical skills from engineering, as well as the data analytics tools I learned from the UK MBA, have allowed me to build reports that have made our team more efficient and stay competitive with other airlines. In my new role, I look forward to continuing to find ways to optimize our business process while also mentoring new team members."
The University of Kentucky's Engineering/MBA Dual Degree is a unique program that intersects technology and business, awarding both the Bachelor of Engineering and Master of Business Administration (MBA) degrees for qualified UK engineering students. Coupled with Gatton's full-time One Year MBA, engineers obtain the necessary skills to drive future innovations in both technology and business in a high-tech global economy.
For over 90 years, United Airlines (UA) has been connecting people and uniting the world. UA have seven US hub locations, including hubs in the four largest cities in the United States and over 90,000 employees residing in every U.S. state and in countries around the world.