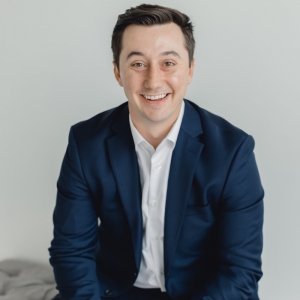 University of Kentucky MBA alum at the Gatton College of Business and Economics, Lucas Witt, is the Co-Founder & Partner at MWM Consulting, Sales and Leasing at Block + Lot Real Estate. MWM and Block + Lot's partnership will provide a "one-stop shop" for existing and growing companies and communities with real estate, community development and tax incentive consulting.
"We are bridging the gap between the real estate and economic development worlds and are becoming a one-stop shop for our clients," says Lucas. "We strive to better position our communities for growth through strategic site development initiatives, working with existing industries and responding to requests for information (RFIs) from the Kentucky Cabinet for Economic Development."
For the past six years, the majority of Lucas' real estate work is heavily focused in industrial related transactions (purchases, sales, and leases) and portfolio consulting on behalf of many clients. When Lucas co-founded MVM in 2021, his mission was simple which is striving to put the clients and communities they serve in a better position than they were originally.
After graduating with his Bachelor's degree in Communications in 2014 from the University of Kentucky, Lucas joined the One Year MBA program at Gatton which is designed for young professionals, recent graduates and emerging leaders.
"Business was always something I was interested in, but I had yet to find a sense of direction," says Lucas. I was fortunate to be surrounded by successful individuals who encouraged me to pursue further education. Because of their encouragement, I ended up pursuing my MBA degree at Gatton."
Gatton's full-time One Year MBA offers a cross-disciplinary curriculum, a built-in internship experienced called Project Connect and prepares candidates to pursue a myriad of managerial, technical and leadership roles.
"The accelerated nature of the One-Year MBA at Gatton demanded structure and attention to detail, which I was grateful for," says Lucas. "The rigorous coursework and demanding schedule prepared all of us for what waiting for us upon graduation: The real world!"
The University of Kentucky's One Year MBA also offers a concentration in Entrepreneurship and New Venture Creation, giving candidates the opportunity to advance on their entrepreneurial interests and to further understand business opportunity, identification, concept development and validation among four elective courses.
Regarding advice to candidates seeking an MBA, a career in real estate or becoming an entrepreneur, Lucas says, "Those who lead their industries are not only the hardest workers, but they are also the most knowledgeable in their respective industries. If you're not learning daily, you are falling behind the competition. I highly recommend seeking out business mentors you can lean on. I am grateful to have several mentors and their guidance has been an invaluable asset."
MWM Consulting, LLC is a full-service management consulting firm specializing in commercial real estate advisory, site selection and location analysis, and tax incentive negotiation services for new and existing businesses. MWM also offers economic development consulting for communities and economic development authorities across the Commonwealth of Kentucky to increase their competitiveness in attracting new business investments and nurturing existing industry clients.
For more information about the UK MBA, please contact Christopher Carney, Director of MBA Recruitment or visit gatton.uky.edu/mba.