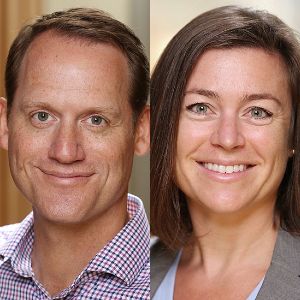 Welcome!
As the Executive Director of our newly formed Professional Resource Center, and the Academic Director of our MBA Programs, respectively, Lorna and I feel both privileged and excited to continue to build on the strong foundation that we have with our MBA programs at the Gatton College of Business and Economics.
We would like to express how grateful we are during this pandemic. Specifically, how grateful we are for the resiliency and adaptability of our recent graduates, current MBA candidates, faculty and staff, as well as the level of engagement and support we receive from our alumni. 
Our graduating class of 2020 faced one of the most challenging job markets in recent history, but we have witnessed impressive resilience on their part as they persevere to secure quality jobs. 
Our current MBA candidates in our full-time One-Year MBA program entered a program typically associated with in-person learning and have proved to be extremely adaptable both with their hybrid courses as well as in their experiential Project Connect program. Our candidates in our part-time Professional MBA program are not only managing their typical schedule involving work or other educational programs, but also the aspect of managing their families and homeschooling. In our Healthcare MBA Track we have candidates that are putting their lives on the line for the benefit of our community, while managing their MBA curriculum. 
Our faculty and staff have done a tremendous job of quickly adapting their courses, extra-curricular activities, and support activities for our candidates. Candidly, these efforts were not flawless, and we have made additional adjustments along the way, but the level of engagement and support to provide the best experience possible for our candidates has been impressive.
Finally, we are grateful for the engagement and support we receive from our talented alumni from around the world.  Our candidates' MBA experience is greatly enhanced by the knowledge, expertise, and opportunities that our alumni provide.  This year we have had alumni participate in orientation, career panel discussions, serve as guest speakers during lectures, host mock-interviews, support MBA teams with Project Connect, as well as share employment opportunities for our candidates. 
Going forward, as we seek to continually improve our programs, our alumni will be an even more important part of our efforts.  
In gratitude,
Karl Gustafson and Lorna Patches