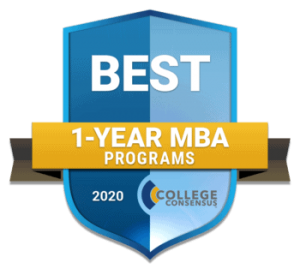 The University of Kentucky's One Year MBA program at the Gatton College of Business and Economics ranks #23 in the recent "2020 Best 1-Year MBA Programs" rankings survey according to College Consensus, which is a unique college ranking and review aggregator combining top publisher rankings with student reviews. Full rankings report can be found here.
In this rankings survey, campus-based MBA programs that can be completed in one year or less were evaluated by combining information from five leading MBA ranking systems: Bloomberg Businessweek, U.S. News and World Report, The Economist, The Financial Times and Forbes. Each program's ranking was converted to a score on a 100-point scale, weighted equally, and then averaged to reveal a Consensus Score. 
"The MBA landscape is very competitive, so it's encouraging to see the UK MBA be recognized on this rankings report among many other great programs," says Simon Sheather, Dean of the Gatton of Business and Economics. "We believe that our One Year MBA provides an exceptional experience with excellent faculty, strong career and alumni outcomes and at an affordable price. We continue to invest the necessary resources each year to improve the overall quality of our program and attract the best candidates who want to add value in their careers and in their respective communities"
Gatton's One Year MBA is a full-time program designed for young professionals, recent graduates and emerging leaders across all academic backgrounds. The program includes a built-in internship experience called Project Connect along with a robust set of core courses, elective options, certifications, professional development, workshops and in-house career management service which supports students in securing their specific career outcomes.
For more information about the UK MBA, please contact Christopher Carney, Director of MBA Recruitment.